Disclosure: I received a review copy of Conversion Optimization from O'Reilly.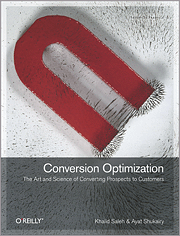 I didn't really have any set expectations when reading this title. As a professional developer I continually strive to fill gaps in my knowledge and conversion optimization was (read: is no longer) something I didn't know much if anything about. At less than 300 pages the book is a pretty quick read, but is packed full of useful information, lessons learned from real world conversion optimization and plenty of case studies. I read the book over the course of a weekend and highly recommend it for anyone involved in ecommerce or lead generation websites – from developers and designers all the way to marketing and business folk. There is a health balance of descriptive and prescriptive guidance and I feel like I learned a lot while thoroughly enjoying the read.
Overview
As the name suggests, Conversion Optimization by Khalid Saleh, Ayat Shukairy deals specifically with converting site visits into revenue – through sales/leads/etc. Essentially organizations spend fortunes on SEO and online advertising to drive people to their site, without giving enough thought to what to do when the visitors actually arrive.
The book is based on an 8 principle (trademarked) Conversion Framework which walks the reader from initial market analysis and persona setup through engaging customers. I found the early differentiation of macro and micro conversions to be extremely insightful, where getting the user to purchase something (taking an ecommerce example) is the macro level and every page along the way must provide a micro conversion to enable said macro conversion. Simple, yes, but only after it has been articulated…
Each step along the way is extremely detailed with a combination of qualitative and quantitative data backing up claims made. The authors appear to be experts in their fields and illustrate their points using real world examples that they worked on. The book is littered with interesting and useful case studies.
The book is both descriptive and prescriptive, explaining in detail what conversion optimization is, pinpointing why it is ignored by so many, defining a framework for optimization and illustrating how to implement this framework.
I read this book from cover to cover in about 3 days. It weighs in at less than 300 pages but the reading is somewhat fluid as the authors jump from business forecasting to the psychology of users and onwards to a multitude of topics with the greatest of ease. I was pretty riveted throughout and barely put the book down once I had started reading.
This is an excellent title which (if anyone from O'Reilly is listening) would greatly benefit from being turned into a Master Class video series! It isn't a technical title, and should be accessible and useful to anyone from business stakeholders, to marketing fold and all the way down to us developers and designers. This was a great read that I strongly suggest for anyone interested in deriving revenue from their website – specifically those spending a fortune on ADs and SEO wondering why customers are not buying their product.